I was visiting with my sister recently and was shocked at how much my nephew had grown. Born in August 2015, he was practically walking and talking (well not quite but you get the point). Here's a photo I took with him on March 27, 2016.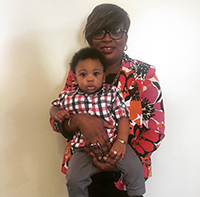 We all love babies and I often hear people say, "Oh, they grow up too fast". But part of what makes babies so appealing is that they are constantly growing and learning. When a baby doesn't grow as expected, we begin to worry and often seek medical advice.
Physical growth is certain and involuntary but the same cannot be said for the spiritual; Every Christian grows older but not every Christian grows up. Spiritual growth is commanded in Scriptures but the process is not automatic.
In order to grow spiritually, one must be deliberate. The apostle Paul said to Timothy in 1 Timothy 4:7 "Train yourself to be godly" – NLT. God wants us to consistently train for spiritual growth.
– Meditate on his word and have daily quiet time with God
– Serve on a Ministry team
– Share the good news of salvation
– Gather on Sundays and mid-week for corporate worship
– Give financially to the work of the Lord
– Have a solid prayer life
Aristotle said "We are what we repeatedly do. Excellence, then, is not an act, but a habit"
These growth habits and disciplines, when intentionally exercised, make for a very fruitful and rewarding Christian life.
Love and blessings!
March 31, 2016|8:43a.m |Pastor V